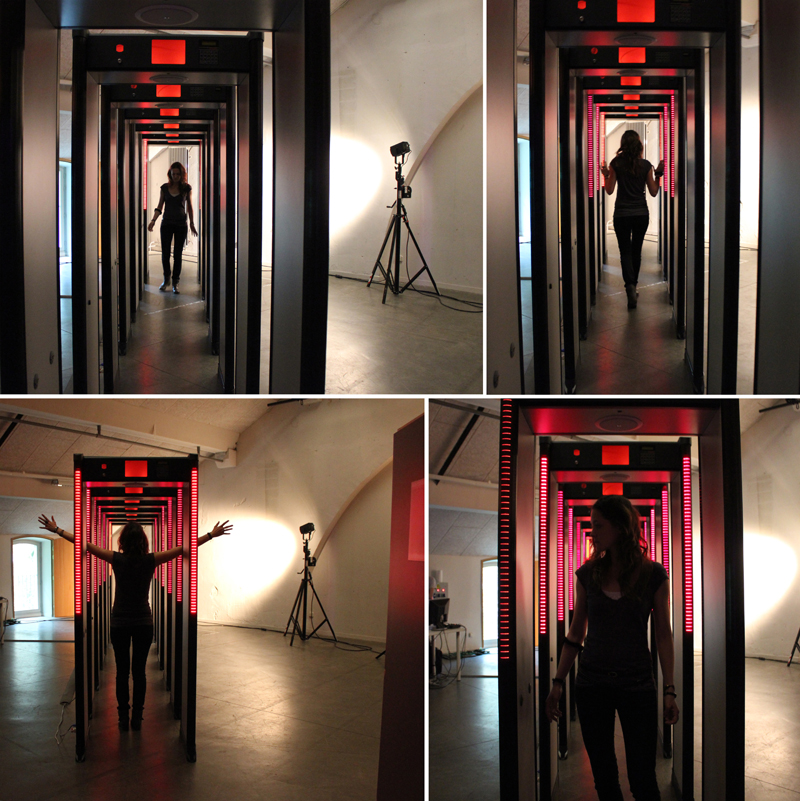 Torii est un portail traditionnel japonais érigé à l'entrée de sanctuaire shintoïste, il sépare l'enceinte sacrée de l'environnement profane. Certains torii peuvent être juxtaposés jusqu'à former un tunnel. 7 portiques de sécurité utilisés dans les aéroports pour détecter des métaux dans le cadre des plans vigipirates sont alignés les uns derrière les autres. Le franchissement de ces portes est contraint et ritualisé lors du passage des frontières. Les gestes qui sont liés à ce cérémonial font désormais partie d'une époque sécuritaire. Des événements sonore et lumineux signalent quand un visiteur est présent dans le tunnel, le passage du corps devient spirituel et suspect. Une composition sonore propose un questionnement sur le corps détecté et analysé.
ENGLISH
A torii is a traditional Japanese gate most commonly found at the entrance of or within a Shinto shrine, where it symbolically marks the transition from the profane to the sacred. The function of a torii is to mark the entrance to a sacred space. For this reason, the road leading to a Shinto shrine is almost always straddled by one or more torii, which are therefore the easiest way to distinguish a shrine from a Buddhist temple. Some torii can be juxtaposed like a tunnel. The Walkthrough metal detectors used in the airports are hijacked from their purpose and arranged in the continuation to form a workable space crossing by the public. These « doors » symbolize the crossing towards to a foreign country, the cross over « x » borders. Each person activate the walk through detector, some of them are more or less sensitive, going through the electromagnetic field the passage becomes sound, spiritual and suspect.
TORII
Projet en collaboration avec Roland CAHEN (Composition sonore) et Alexandre SAUNIER (ingénierie électronique)
Partenaire : Arcadi, VISIOM, EnsadLab, SIANA, avec le soutien du CENTQUATRE-PARIS 
Exposition Horizon Matriciel dans le cadre de la biennale SIANA à EVRY
.